32" Tall:
These terraced raised garden beds bring more different experiences to your gardening life. Not only can you have a 32'' without bending over, but you can also grow any plants you want at a 17'' tall raised bed with a trellis.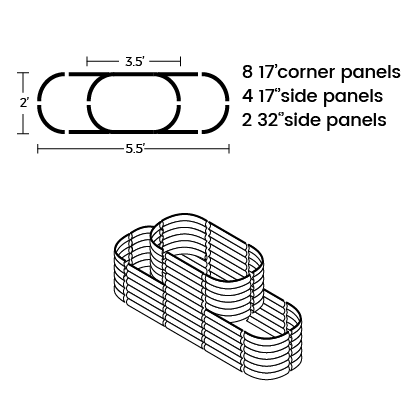 Strong and Long-Lasting:
Zn-Al-Mg (What is Zn-Al-Mg?) 24-gauge steel is strong, lasting 4-7x longer than standard wooden raised garden beds.
Easy to Assemble: 
For easy assembly, we offer bolts, nuts, washers, wrenches, and an Instruction manual. Keep your raised bed sturdy and safe from bowing. We also offer duty rubber edging to cover the edges protecting them from injury.
Rust and Corrosion Resistant: 
Zn-Al-Mg is 2-7x more effective against rust and corrosion than standard galvanized coatings. Please refer to the technical text for more details.

No Contamination: 
Unlike low-grade plastic, chemically treated wood, or poorly manufactured copycats, Aluzinc-magnesium galvanized steel does not leach or break down in any major way over time, so these beds are safe to grow food in.
Our Zn-Al-Mg raised garden beds have adopted AkzoNobel sustainable special paint(also obtained USDA certification) developed for animal husbandry and planting, which will not penetrate the soil. Your garden and soil are safe to go. However, most traditional wooden raised garden beds will add chemical preservatives to avoid crumbling easily, these may penetrate the soil and do some damage to the soil.
Environmentally Friendly:
Traditional wooden raised garden beds aren't always a sustainable option. Research showed that roughly 15.3 billion trees are cut down each year, and logging is a big part of that. Purchasing wood for raised beds might not be an environmentally conscious decision. Compared to wooden raised garden beds, our Zn-Al-Mg steel raised garden beds are an ideal material for any outdoor applications. It's eco-friendly, long-lasting, and sturdy, lasting up to 20 years without needing replacement and with minimal maintenance.